The Kart Body
A kart body is for more than just looks in some cases. But usually it's all about looks.
Fiberglass Body Kit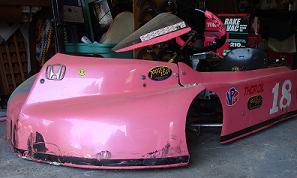 A used kart body with
This is a fiberglass body for a typical open speedway kart or dirt kart.
What they are made of
Fiberglass or Plastic
Me? I'm fiberglass all the way. It's just more shiny, and easy to fix.
Kart Bodies are usually made of fiberglass or plastic. Some plastic bodies are softer plastic than others. The softer being more flexible before breaking.
Fiberglass
Fiberglass is strong, but won't bend very far before breaking. The plus with fiberglass though is that if you break it, it's easy to fix with Bondo or some other fiberglass repair kit. It can be sanded to very smooth and painted with high gloss for a very good look as well.
Plastic
Plastic has more flexibility and will bend farther. Some plastic can be finished to look pretty smooth and look nice, but you can do more with the looks of fiberglass. You can't really fix plastic when it breaks, but it will be harder to break.
Shapes and Sizes
Different types of karting calls for differnt types of bodies.
Sprint Kart Body
These are the ones with the pods on the left and right bumpers. They also have a little wedge attached to the front bumper.
Kid karts use these bodies as well.
Speedway Kart or Dirt Kart
Like the picture above, these cover the front tires and go all the way around to the back tires, usually in one peice attached together with bolts.
For Junior classes, the body will be lower in the front to make sure the kids can see above it.
The Wedge Body
This is a body that basically makes the kart look like a wedge of cheese. This is usually for aerodynamic purposes.
Enduro
These are a little longer, and are low profile so that the driver in lay down seats in enduro karts can still see.
Body Accessories
Now it comes to the other parts of a body you can put on your kart.
Driver Panel
These go on the steering column covering that ugly thing up. It is also for aerodynamic purposes as well. There are different shapes and sizes, and come clear as well to help with seeing the track
Spoilers
Rear spoilers are not really used in much karts. One that does use them though are superkarts. The amount of power these karts have they need the downforce provided by a rear spoiler.