Superkart: The fastest in the world
The superkart is a really fast kart raced only by kart racers that are adults and have some experience.
What do they look like?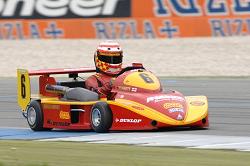 A superkart
Superkarts have full aerodynamic bodies with a rear wing and are built on a straight chassis. These karts are designed for road course tracks.
Power
The engines can vary but most of them use a 250cc engine of some sort. These come from motorcycles usually, and they are shifter engines.
Tracks they race on
Superkarts race on large tracks that cars race on as well. On some tracks they hold the laptime record, and others they are on par with formula 3 lap times.
These karts achieve speeds of over 160mph, and have one of the highest power to weight ratios of all motorsports.