Vega Tires
Vega tires have been around a good while in kart racing. They started in Europe in 1980, and made a large presence known there in karting. In Europe they are mostly referred to as "Vega Tyres", which is the British-English way to spell tires.
They have a pretty big presence in America now with their tires for Dirt and Asphalt ovals in North America.
The Vega Logo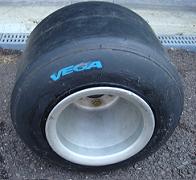 Vega Tire on 5" Wheel
The only way you can really tell kart tires apart by just looking at them is the logo written on them.
The logo on this tire is blue, and other tires come in different colors as well. Vega uses different colors to signify what type of tire it is.
Vega has tires ranging from soft rain tires to hard narrow tires, and they offer tires for every type of kart racing.
Their main oval tire:
The MAS Oval tire is their main line of dirt and pavement oval tires. They advertise the use of natural rubber in this tire and the ability to be fast without having to be cut or prepped.
This is big in oval racing as cutting tires and prepping them has become huge in achieving advantages on the track. This line of tires has a yellow Vega logo. They are used on 6" wheels.
Their sprint track tires
This makes up the majority of their tires.
XP, XM, XH - Yellow, White, Turqoise.
These three tires are for the homologation period from 2008-2010 for the CIK-FIA karting organization. The XP yellow is the softest with the white being medium, and the turqoise being a hard compound.
The SL Series: SL3 Nordam, SL6, SL7, SL8 - Blue, Green, Red, Orange
The SL tires are the tires for everybody from amateurs to professionals. These are 5" tires and they are durable, and have good lap times in new or used conditions. The order of hardness is SL3-SL6-SL7-SL8 with the SL3 being the softest.
These are the other line of 6" tires for Vega. They are used in international races in Europe, and are both a pretty soft tire, softer than the SL series and CIK-FIA homologation tires. The HV tires are front tires and the HS tires are for the rear.
Indoor tires: Ind. S1, Ind H1
These tires are for indoor kart racing. The S1 is for smooth tracks, and the H1 is inteded for use on abrasive tracks.
The rest of the bunch
HP - The softest slick tire they offer, intended for FSA international races.
Cadetti - The "Narrow" tire - for clubs that require the use of this tire.
XLL - For endurance kart racing, ex. Races that go on for 5 hours or more.
W4 Rain tire - Grooved, for wet tracks.
A neat thing Vega does is offer rewards in North America. If the track is participating in the program, and you race 4 vega tires and have a Vega decal on your kart and you win, you gain a point. They then give you rewards based off how many points you get.